May 9,2018 / By
kimron
/ No Comment
Today on #HowTheyDidIt I talk to the award-winning Dominican entrepreneur Oudin Samuel. Oudin built a successful website management platform across the Caribbean region and North America. He has also won two regional awards one of them being the OECS 30 Under 30 Award. Read more about Oudin story.
Tell me a little about who you are?
My name is Oudin N.B. Samuel, founder & CEO of Caribonix. I am a professional website designer with 8+ years experience working with businesses across the Caribbean and the US. I attended the University of the Southern Caribbean in Trinidad & Tobago, where I pursued studies in the field of computer science. This led to my winning an OECS Top 30 Under 30 Entrepreneur award for 2017. During this time, I also led my team to win the Caribbean Tech Entrepreneurship Regional Challenge. It was a fantastic feeling to be recognized as one of the top 6 out of 140 participating Caribbean start-up companies.
I believe I have a mission: an obligation to build something greater than myself. This is why I am highly dedicated and focused on empowering every Caribbean business owner. Because who doesn't wish to be free to direct their energies into doing what they do best, while having the tools to grow their business?
A proud Dominican, I am an entrepreneur and Rotaractor who enjoys making a difference in the lives of others. Traveling, meeting new people, learning and experiencing new cultures is very stimulating to me." In my spare time, you can find me either reading, watching or playing football, or exploring new technologies.
What is your business about?
Caribonix is an all-in-one website management platform for small business owners to save time building and managing their website. Unlike expensive website design agencies or time-consuming website builders, we take your website off your "to-do" list. So you never have to waste time maintaining your small business website again.
Caribonix gives small business owners and their teams the freedom to focus on doing what they do best—core business activities, serving customers, and improving their services and products. All the while, we help them save time and energy, grow their website traffic, and convert more visitors to drive more sales. We're down in the trenches, handling all the frustrating work related to their website.
Think of us as giving each small business its own IT department, that works directly with them towards achieving their website goals and objectives. The best part is, we provide everything for one flat monthly fee.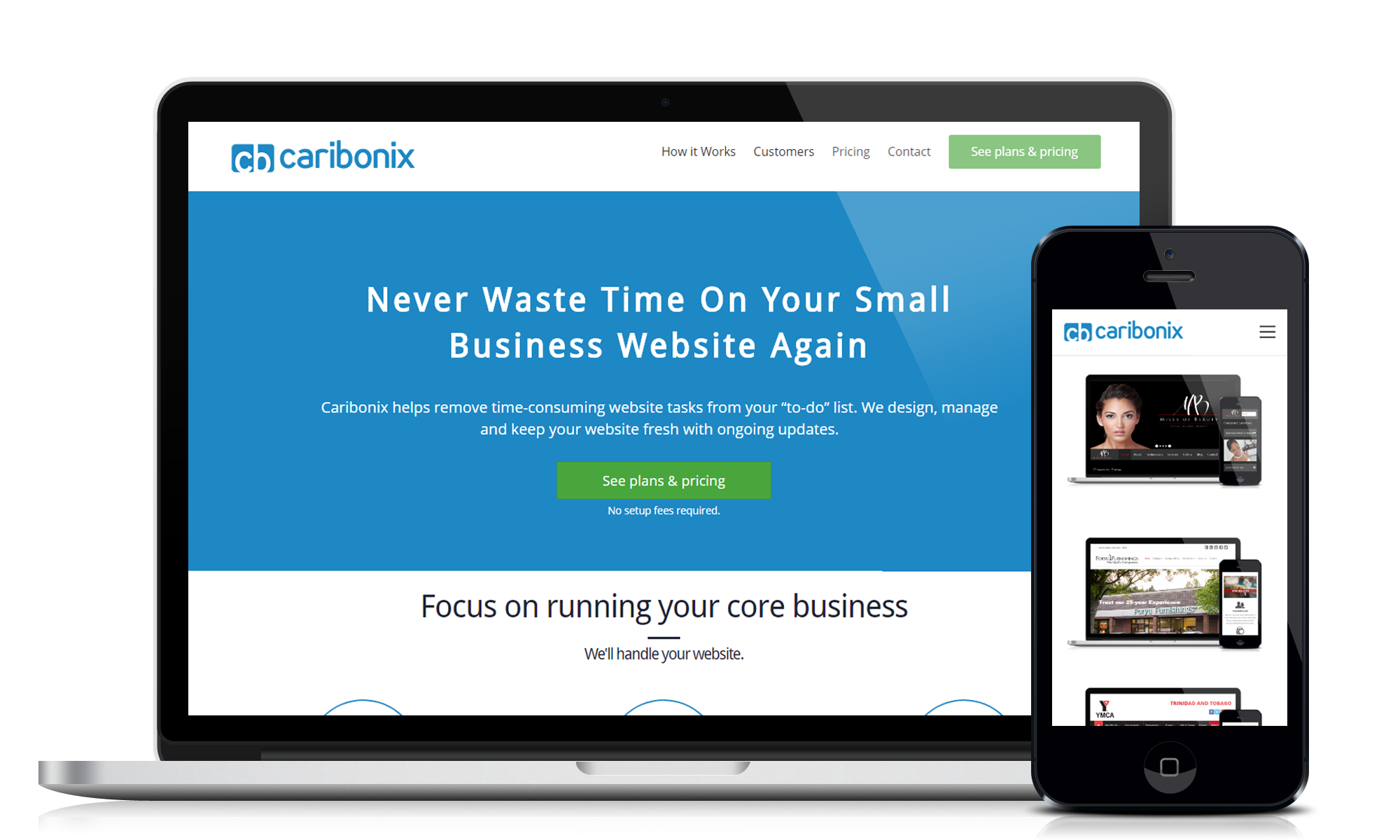 What were you doing before you started your business?
I was a third-year university student creating websites for free so I could learn the skill of web design and build my portfolio. To gain more experience in the industry, I managed to secure a job working part-time at the university. In reality, I spent roughly two to three weeks hunting down the head of the university's web department just to get one meeting. When I finally got that meeting, it lasted maybe five minutes or less. I showed him my portfolio and he said "Ok, start next week Monday; we'll finalize the details then."
My boss eventually left the university to go full-time into his own business. So unofficially, I now had the responsibility of running the entire department for about six months. When the opportunity was available to officially apply for the vacant position-I went for it-but sadly was not successful. Thereafter, I began working as a freelancer.
What inspired you to start your business?
As a child growing up, I always enjoyed earning my own money by doing odd jobs from painting houses, scrubbing walkways, to working on my dad's banana farm in the summer. My parents also encouraged me from an early age to be financially responsible by opening a bank account for me, providing a weekly allowance which I had to manage. Some of it I saved, and some went to buy snacks and other small items. Or maybe I wanted to buy that cool, new shoe that just hit the market. Whatever was over the amount my parents were willing to spend, for sure I would have to pay the difference!
The idea of owning my own business always interested me from an early age, which started with my first venture selling eggs. I gained confidence as I never chickened out!
Further, I believe my parents, older brother and former boss all inspired me in different ways. Also the pure desire to make a huge impact on society one day, was a great inspiration to start Caribonix. It's a great opportunity to help people while doing what I love.
What obstacles did you face in starting your business and how did you overcome them?
One of the major obstacles faced at the start, was literally starting out with no money (as in zero dollars). To overcome this, we had to set a strategy to bootstrap the company, and we continue to do this today with the hopes of attracting future investments.
I believe with the right investments we will be able to scale the company, and enter new markets while serving our amazing customers even better. We totally plan to introduce new technologies, create more employment opportunities and grow into a global company.
Other obstacles we faced included having limited marketing and sales experience. However, in order to compensate for limited knowledge in these areas, I surround myself with awesome people-definitely a tradition to go forward with!
What's next for you and your business?
Next, we are focused on growing/scaling Caribonix; basically, introducing new products, tools and acquiring new customers. We have invested in building the technology and platform that businesses can access and benefit from, because of our lower cost.
Now we would like to get every local business online, whether they are offering services or selling products. We want to make them accessible and show the world the great businesses the Caribbean region has to offer. To achieve this, we would need the support of local business communities across the region. The more love, support and customers we receive, the more we can grow, to better serve and give back.
If you are a business owner, sign up to work with us today, or if you are a fan, share this with someone in your network whose business could benefit from using Caribonix.
What is your best advice for young people looking to start a similar business?
The simplest advice would be to just get started now! Start working on your skill, build your portfolio, get your first customer and surround yourself with awesome people. There is a great saying: "Show me your friends and I'll show you your future." So if you want to be a successful business person, then surround yourself with like-minded people.
Additionally, don't wait for things to be perfect, and don't procrastinate on getting important things done. Be careful not to get distracted by people who don't have your best interest at heart. And definitely, try not to get discouraged when things don't go your way or work out as you think they should.
Lastly, whatever business venture you choose to pursue-ensure you are passionate about it! Provide amazing customer service and focus on building meaningful, enduring relationships.
To learn more about Carbonix, visit https://www.caribonix.com/, connect and follow them on Facebook , Twitter , and Instagram  or email them at: sales@caribonix.com 
Click here to see how Monique Mayers built a thriving consultancy that transcends borders