Today on "How They Did It" I chat with Giovanni Vance Errission-Johnson a full contact kickboxer from the Bahamas currently living and training in Thailand.
Tell me a little about who you are?
My full name is Giovanni Vance Errission-Johnson. I was born November 2, 1986, in Nassau, Bahamas. I'm the oldest of four children. Three boys, one girl. I was born with twelve fingers (fun fact). As a child, I was mistaken for a girl quite often (sad fact).
Talk a little bit about your upbringing.
I spent the first 8 to 9 years of my life in Nassau. I grew up around a lot of families; mostly my mom's side. Huge family!! My mom was the last of 6 girls, with six brothers, for a total of 12 kids… my grandparents were busy people. Lol! during my time in the Bahamas I changed schools five times. My family moved a lot. Dad had great business ideas but didn't have the patience to see them through. I wouldn't say that we were poor, but we weren't rich. What we were, was struggling. Boy was we struggling.
We moved to Florida in 1995, stayed with my grandfather in Vegas for that summer. We went back to Florida to live with my uncle on my mom's side for a while. We eventually found our own place, and my parents put us (3 brothers) in school, my sister wasn't born yet.
We lived in Florida for ten years, during those years we moved eight times. When things were good, they were good, but when they were bad, it was pretty bad. From being evicted, to sleeping in hotels, to sleeping in the restaurant, my dad was trying to start. I could say that for a while we were homeless.
How did you become a fighter and when?
Abruptly, one day I was training, the next day I was a fighter.
I was introduced to all of this in 2009. It started with taekwondo, then moved into full-contact kickboxing. I was just picking up a hobby at first. It was fun; it allowed me to blow off steam. I've always wanted to learn martial arts. But I never saw myself fighting, I never even thought about it, to me, I was just practicing. I was just staying in shape while having fun.
Then one day my coach asked if I wanted to fight. "Nope." that was my answer. Big "nuh uh" from me, but he pushed the issue. Apparently, he saw something in me that I did not. I finally caved and entered a tournament. Two fights in one day. At the end of the day I had two wins and a gold medal. That's how it all got started for me.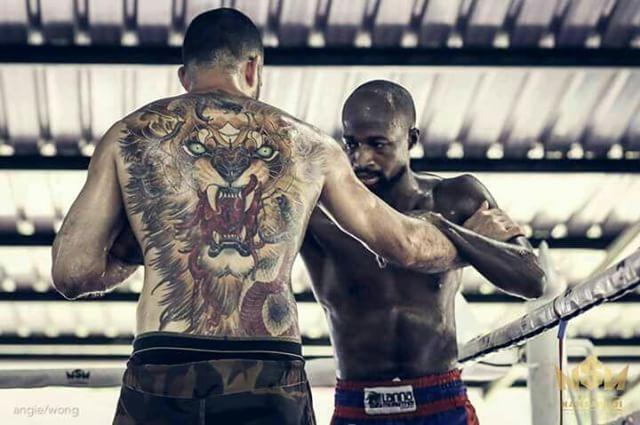 What were you doing before you got involved in professional fighting?
I'm not a professional fighter as yet. I was a student at the college of the Bahamas, now known as "UB." I was studying biochemistry, heading into marine biology. I was also working as a kitchen steward to pay my school fees. I was working 9-5, then going directly to class after work, followed by practice.
What inspired you to get involved in fighting and moving to Thailand?
With regards to fighting, I was tired; I was so tired of life, I was so sick of punching the clock to a job that I hated, barely having the money for classes and struggling to get by in life. I was tired of barely making ends meet; I was sick of being depressed, beaten down, and sad. I was tired of doing what society told me I should be doing, only to have it not work for me in the end.
Then I realized, I'm happiest when I'm training, I'm happiest when I'm fighting, I just want to be happy, if I'm going to be poor, I might as well be happy and poor.
Was it an easy decision? Hell no! I didn't live by myself, and I had a family that depended on the income that I was bringing in, as small as that was. However, I wasn't put here to live for anyone other than myself. I got the support of my mom, and that was all I needed. I've been training and fighting ever since. Now has it been an easy road? No. not at all. Have there been times that I want to give it up? Yes? But I know that's not what I want.
Concerning Thailand, this was just an opportunity that presented itself, and I would have been a fool to not take advantage of it. I've always wanted to come here to train; this is the mecca of muay thai, where the martial art was born. I was saving up for this trip; it just so happened that a good friend of mine saw that I wasn't where I needed to be to continue to grow as a fighter, so he provided the balance of what I needed. I bought my ticket, got my visa, paid for my training and accommodations, quit my job, and I moved. I moved to the other side of the world, away from all comfort, friends, and family, to train. To pursue this goal that I had set for myself.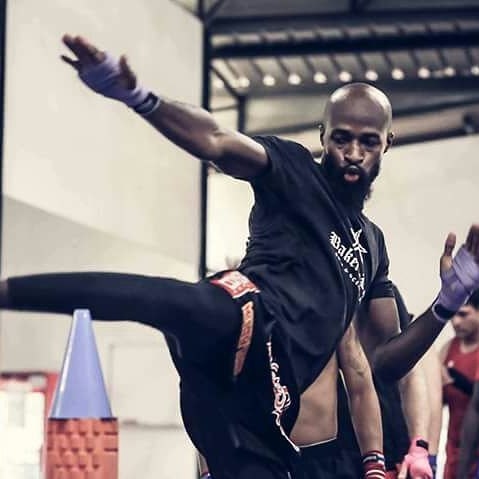 Did you have a mentor who helped you on your journey?
I have many mentors, and there are a number of people that have helped me get to this point. Kent Bazard who introduced me to this, and got me prepared for my very first fights. Scott Clayton who took over as my coach and molded me into a much better fighter. Justin Patterson, my teammate from Texas, is always an inspiration to watch fight in the cage. My brother Avenii Johnson who has been my biggest fan since day one. My brother Kristian Johnson who spreads my name to everyone he knows, my father, Vans Johnson, who has dumped so much of his finance into my training. My mom, Maria Johnson, who from the start of all of this told me to do what makes me happy. Jawara Pierre, who was one of my first sponsors, and the only person that continually sponsor me and the love of my life, Ryan Marcia Collie, who took me out of the darkest days of my life.
I HAVE MANY PEOPLE WHO HAVE HELPED ME ON THIS JOURNEY.
What obstacles did you face and how did you overcome them?
My biggest obstacle is finance, being an athlete is expensive especially when you have to do everything out of pocket. Maintaining a healthy diet is expensive, so right now it's about sponsorship. Finding people/companies/brands that are willing to back me. To overcome that I just have to make myself as marketable as possible, make myself as relevant as possible and be as visible as possible.
How has your life changed as a result of being a professional fighter?
I look great! Lol!! Six pack of abs for the rest of my life! Other than the health aspects of it, I've just gained a different outlook on life, and what it means to be alive. Most people are walking around dead at a job they hate entirely, just running in that circle, not getting anyway in life. They give away the most valuable thing that we have all been blessed with: their time. Now, I am happier, healthier, and I value life so much more.
Whats next for you?
All of this to launch my Pro career. I'll fight for as long as I can, stay healthy as long as I can and build myself into a brand. After I hang up the gloves, I want to open up a school and pass on what I've learned and show our youth that there are other avenues out there. I would love to continue to build the sport of kickboxing and MMA in the Bahamas. I would love for us to be on the map for these sports.
What is your best advice for young people looking to get involved in fighting as well?
Find a good gym with a good group of instructors. Instructors that care, not only about your progress in the gym but your development as a person and be prepared for the ups and downs. Stay the course and keep your hands up, and your chin down, protect yourself at all times.
Click here to see how Christina Hunte built a Creative Marketing Agency in Barbados or How Heidi St. Clair Built a Childcare business in St Lucia.