Mar 30,2020 / By
kimron
/ No Comment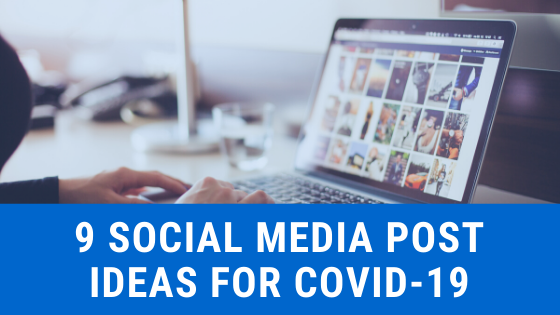 With the emergence of the Global Pandemic, COVID-19, businesses have a unique opportunity to communicate with stakeholders and potential stakeholders. People are at home, and in many cases with nothing to do, therefore, they take refuge on Social Media. What this means however is social media will become very noisy. Everyone with a smartphone will be producing content. So how do you ensure that you content stand out? By producing good quality content that people want to engage with. I came across a video on Youtube from Angie Gensler where she spoke about 9 social media post ideas for COVID-19. I was quite impressed with the video and decided to share with you. In that video she broke down what types of content you can share on social media in this time. Below you will find a summary of the video as well as the actual video itself.
What NOT to post on Social Media
1- Strong Political opinions-  especially if it is not in line with your brand. Stay away from political opinions and judgement.
2- You should be following social distancing- Do not share photos of you out and about in public with people, potentially helping spread the virus.
9 Types of Post for Social Media In This Time
1- Positive thoughts or quote- Keep the positivity flowing
2- Funny meme- obviously your humor is not universal, but there is nothing wrong with poking a little fun without being disrespectful or insensitive. But please use your discretion.
3- Questions- Questions increases engagement, keep asking questions.
Here are 7 social media Mistakes that can harm your career, be careful
4- An action you are taking- What action you are taking to deal with COVID-19
5- How Can People Do business with you- This is an important post especially if you've had to change the way you do business.
6- Go behind the scenes- Give customers a behind the scene glimpse of what your day to day look like now. Show them how COVID-19 has impacted your day to day.
7- Share helpful information about COVID-19– Share content about how people can stay healthy etc. You do not have too create these content per se, you can curate them from other sources.  Don't share conspiracy theories and keep your opinions on the matter to yourself or for your personal profile.
8- #ThrowBack- A post showing back when things were different before COVID-19
9- Thank Essential Workers- Lots of people working their ass off now to keep us healthy. Show some gratitude.
See the full video below