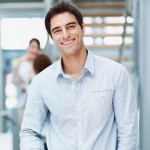 The date was March 7th 2014 when I finally made the move to Toronto. I was patiently waiting for the day to arrive, and my wife was thrilled. However, the change was met with mixed emotions. I had to give up everything I worked hard to achieve in Grenada, so it was difficult. The toughest part was leaving my entrepreneurial endeavours behind. I couldn't move my business with me because it was too location specific. At that moment, I vowed that I would start over and build an empire in Toronto that I could take with me anywhere. Although I knew my declaration was easy to say but difficult to do, I gave myself the assurance that I would eventually get things in motion.
After a couple months of working and settling down, I felt the urge to do something to make a difference in others' lives. As a One Young World Ambassador, I truly believe that helping people is one of my roles in this life. I was in the process of building my entrepreneurial venture when an amazing opportunity to positively impact the youths in Toronto presented itself. I had the esteemed privilege to work alongside the amazing Tiffany Ford, the newly elected Trustee at the Toronto District School Board, representing Ward 4 (Jane and Finch) as her assistant. We had a great team which was comprised of another assistant named Christopher Cho, Trustee Ford, and myself.
Christopher was born in Montreal, and he moved to Toronto to pursue his Masters of Global Affairs at the Munk School of Global Affairs. We worked well together to ensure that Trustee Ford's affairs were properly handled, so she could effectively reach and interact with the people in Jane and Finch. Our outstanding partnership happened for a few weeks until one day I received a call from Trustee Ford with a rather unfortunate message. She said, "Kimron, I have bad news; I have to let you go." Since I was only able to hold the post for a couple of weeks, I wondered if sucked that much. Fortunately, it was made clear that I wasn't to blame. Apparently, the Ministry of Education instructed the Trustees to terminate the services of their constituency assistants and dissolve their offices.
From what I gathered, previous assistants performed tasks outside the scope of their operations which cultivated and perpetrated a culture of fear among the overseers, so I had to pay for their delinquency.  Truthfully, I didn't think the outcome was too bad because I would have gotten more time to work on building my business SocialEyez Media. However, I thought to myself that it must be tough for Trustee Ford. She had been recently elected, and now she had to pay the price then attempt to fix the dysfunctional system that she met. A number of directives had to be met, 13 in particular. Apart from getting rid of the assistants, other stipulations included giving up their offices and moving to a shared location, creating a plan to close some schools in 3 years, cutting the pay of the director of education among others.
To this day, I wish I was given a chance to make a true difference and to help Trustee Ford make the necessary changes and impact in her Ward. Although she has limited resources, I am confident that she would accomplish the goals that she set. It's now time for me to do the same because I believe entrepreneurship is one the ways that people could make a huge difference. Being able to aid in the development of your community and the wider world by introducing something that will help change people's lives is a great way to make an impact. Therefore, entrepreneurship will be the next step in my life's journey.