Nov 21,2017 / By
kimron
/ No Comment
This week on "How They Did It" I talked to Timothy "Timmay" Bain, Bahamian award-winning media entrepreneur and Vlogger. Timmay talks about how he founded 3 Amigos Media with his friends, the sacrifices he had to make to get to where he is today and how he was able to overcome being a student and acquiring all the equipment needed for his business by sacrificing lunch money and doing part-time jobs.  Timmay didn't finish College like his business partners. He dropped out to focus fully on his company 3AM in late 2014 and ended up finding jobs as a Social Media Coordinator for BTC and Marketing Brand Representative for KALIK. He also grew up on New Providence.
Tell me a little about who you are?
My name is Timothy Darian Bain, better known as Timmy, or TIMMAY as I've branded myself. I'm an event blogger, event photographer & videographer, show host, CEO of a media company, talent manager, vlogger, basketball fan, music lover, film aficionado & I love art. I do my best to tell the story of Bahamian artists & athletes because I believe that Bahamian talent is on par with the rest of the world, but before I can educate the world about our greatness, I have to educate fellow Bahamians about their talented brothers and sisters.
Talk a little bit about your upbringing.
I was raised in your typical two-parent home with a self-employed father (mechanic) and a bank manager (mother) who both had important impacts on my life. Seeing my father work hard but for himself taught me the good and bad of being self-employed, lessons I didn't even know I learned until it was time for me to work for myself. Since he worked for himself, it meant that he always had the free time to drop and pick me up from anywhere I needed to go, and it was on those car rides that I developed my love for music that certain kids wouldn't. He played everything from old reggae to jazz, r&b and back to old reggae. My mother, who is an avid reader, made sure I had books in my hand since I could read. Every time we went away on family vacation, we dedicated a few hours to shop for books for the rest of the year – me, my mother and my sister. She's also the basketball fan in the family, and most of our daily conversations center around the NBA. I got my superpower from her, which is time management. From watching her get 3 degrees in her 40s and just listening to her in general, I was able to subconsciously develop the one thing that I have allowed me to do what I have done in only three years – manage my time and assets correctly.
What is your business about?
Three Amigos Media is a media company that focuses on photography, videography, graphic design and social media management. Co-founded by Timothy Bain, Mick Massaar & Amajahl Knowles, along with two additional business partners in Ashley Whitney and Jazmine McPhee, 3AM (the abbreviation) aims to provide quality service but to also document the intricate subculture of the Bahamas. Each member has a specialty or two that he/she focuses on, and mine is the social media management and event photography/videography. I do my best to focus on the events that showcase and highlight Bahamian Culture. Started in May 2014, the hope is to be the leading platform for culture in the Bahamas while turning a profit.
What were you doing before you started your business?
Before starting 3AM, I worked to a local radio station, ZSR Sports Radio 103.5, and a had a show with my business partners called College Talk 103.5. We were all media journalism students at the College of the Bahamas (now the University of the Bahamas), so our show focused on highlighting youth our age, either in College or recently graduated, along with some pop culture & sports talk. During this time, I also started managing a few Bahamian rappers, including Jay Complex & Findaway Chase and using my social media platforms and blog affiliations to tell their story.
What inspired you to start your Business?
After working at the radio station for almost a year, we decided that we could do what we were doing and much more if we chose to do it on our own. At first, Three Amigos Media was meant to be a management platform for the artists we were managing and their colleagues – B.A.S.S. which also features Travis Bowe & Skully as well as singers Adria & Holiday Soul. After that great summer and things slowed down, we decided that it was best to expand the scope of the company. We were all media journalism students which mean we were all learning about photography & videography and writing. Mick was already a graphic designer, and Ashley was already a videographer. Amajahl and I had been writing for blogs and covering sporting events for years, so we decided to consolidate all of our talents and lanes to take over. Later on my best friend Jazmine, a marketing professional, joined the team to be the glue to the whole project.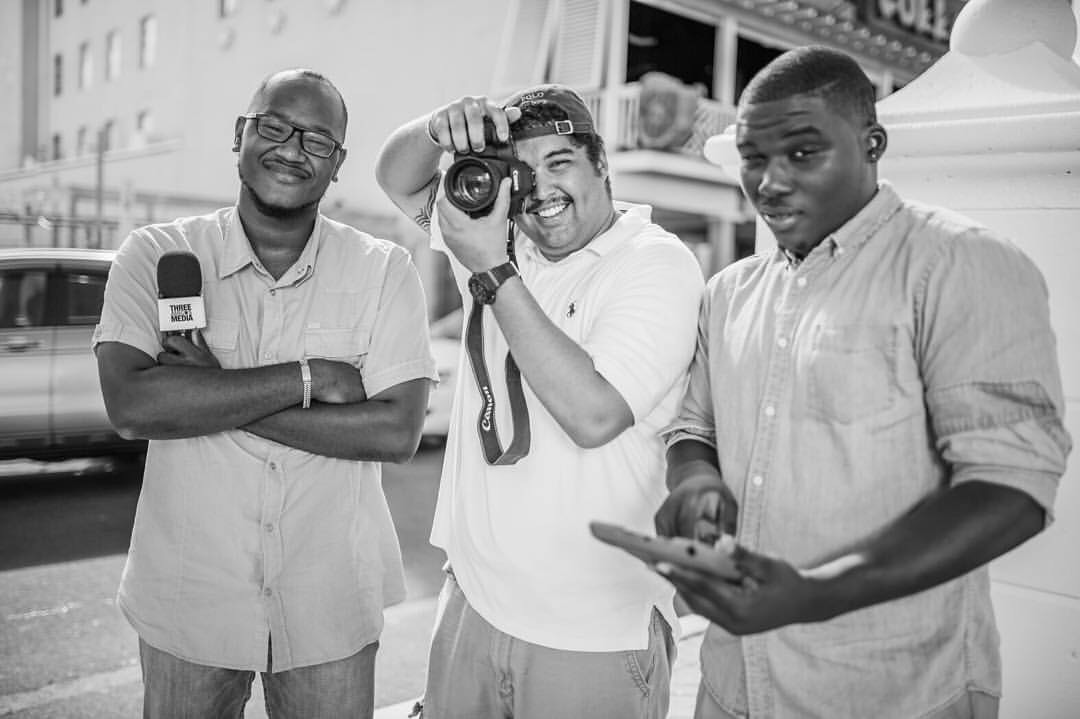 What obstacles did you face in starting your business and how did you overcome them?
The obstacles we faced were competing with already established companies and individuals and trying to secure gigs. In the Bahamas, companies usually use who they are used to and don't like to take on new people for their services. Even before that, our most significant issue was being college students trying to acquire equipment without full-time jobs. It took a lot of lunch money saving as well as using the small amounts of cash we had from part-time jobs to buy equipment and invest in the company. At a point, I was the only one with a car, so we had to carpool to get to events. We did a lot of promo work the first year to get our names out there, sometimes unpaid or lower than we asked for, just to get our names out there. Eventually, it started to bear fruit as we secured contracts with reputable companies and also were getting called for varying gigs.
What's next for you and your business?
The goal going forward with the company is to possibly increase the staff so we wouldn't have to pick and choose which events we work too because the end goal is to be not only the platform for Bahamian culture but a one-stop shop for all our clients' media needs.
Give me an in-depth look into your Media Activities
My vlog #WHODAT, which can be found on my Youtube page, has been running since 2014 and it focuses on the past, present, and future of Bahamian artists. To date, I've had 73 guests and won the first-ever Elevation Award for Vlog of the Year for the 2017 Elevation Awards. I am currently nominated for the 2017 Bahamas Press Club Media Awards for the new category of Social Media (Bloggers, Livestreaming, Podcasters). (update: I won the award) I also recently won the 2017 Youth in Entrepreneurship Award for being the CEO of Three Amigos Media, my company that I co-founded with Mick Massaar & Amajahl Knowles. In an effort to show as much of the Bahamian culture as I can, over the years I've became the official event photographer for entertainer & singer Bodine Victoria, Dyson Knight, Wendi, Jamaal "The Celebrity Artist" Rolle of 3RILOGY and have worked with Lady E, Julien Believe, Sammi Starr, Patrice Murrell and more over the years to capture them at the height of their careers. I have also done the social media for the 3rd annual Bahamas Junkanoo Carnival, and I'm on the media team of carnival group Bahamas Masqueraders, who became the first Bahamas Carnival group to debut at the international line when they did so at the 2017 Miami Broward Carnival with Giselle's Wassi Ones. Also, I was able to attend the 2016 NBA Draft courtesy of my former employer, the Bahamas Telecommunications Company (BTC) to cover Chavano "Buddy" Hield, who was the first Bahamian to be drafted in the first round of the NBA draft since Mychal Thompson was drafted number 1 overall in 1980.
What is your best advice for young people looking to start a similar business?
The best advice I can give is to have a team – everything is easier when you have support behind you and with you, whether it's financial or emotional.